Cremation has been part of the fabric of civilization for at least five thousand years. (Messenger, Healing Help Bereavement Pamphlet, Understanding Cremation, Authors Kelly Baltzell M.A. & Karin Baltzell Ph.D) Today, the use of cremation is on the rise in the United States. Some people struggle with the concept of cremation, because it raises questions regarding memorialization, grieving and saying good-bye. However, there are many options that can help us remember our loved ones when the choice is cremation.
We often get asked this question, "What is Cremation?" People generally understand what the term cremation means. When we are asked for a detailed definition, however, we tend to hesitate while searching for appropriate words. A suggested definition of cremation is: "The mechanical and/or thermal or other dissolution process that reduces human remains to bone fragments." If cremation is your chosen form of disposition, it is recommended that when you are arranging for a cremation that it be done prior to immediate need. This gives you the benefit of making arrangements without the pressure of time.
Services Available
Just because you choose cremation does not mean you cannot have a funeral or memorial service for your loved one. In fact, most cremation families choose a complete visitation and funeral service or Mass before the cremation takes place.
Visitation: We provide the options to purchase a casket that was built for cremation or to rent a casket for viewing during the visitation.
Funeral/Memorial Service or Mass: We provide the options to conduct a traditional funeral/memorial service or Mass that can be held in our funeral home or your church. Just as in a traditional funeral, music selection, video presentations, memorial boards, choice of service location and religious services can all be used. Family and friends are welcomed to attend.
Cremation offers many alternatives when chosen. Flexibility and creativity are possible, in addition to all the benefits of traditional committal when cremation is selected. Traditional committal of cremated remains can include: placement in a mausoleum, placement in your home, garden memorialization, scattering in accordance with local laws, or placing in a burial plot.
Rental Caskets
Our funeral home offers a casket to rent for a visitation and/or funeral service, when cremation has been selected by the family. The cremation container has the same features as a regular casket, like a pillow, mattress, overlay and throw.
The casket itself acts as a "shell" around this container making it suitable for public visitation and viewing. The rental casket looks just like any other wooden casket and the public would not be aware that your family has rented the casket. After the funeral service, the funeral director folds in the overlay and throw, places a lid on top of the inner container and the unit is then removed from the outer casket shell. The inner container holding the body is then transported to the crematory.
Oak Hardwood Rental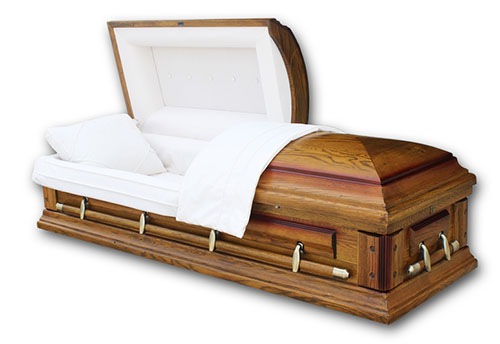 The rental price of this casket is $760.00 and in addition to this there is a $250.00 fee for the cremation container insert.
Oak Veneer Rental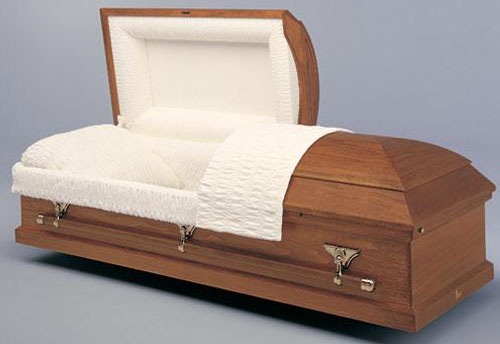 The rental price of this casket is $630.00 and in addition to this there is a $250.00 fee for the cremation container insert. Max Weight: 250 lbs.
Our On-site, Private Cremation Facility
In 2013, Evans Funeral Home invested in the first and only on-site crematory in Huron County. With foresight and aspiration to provide the most needed funeral services available to our community, the Evans continue to respond to the needs of families.
As funeral professionals and community members, the Evans' have:
Made a commitment to the respectful memorialization of your loved one;
Completed education in the art and science of cremation;
Dedicated their firm to ongoing education and training for themselves and their staff;
Supported the CANA Certified Crematory Operator Program, and
Committed to the CANA Code of Ethics.
The CANA Code of Ethics guides each CANA member - in the ownership and operation of their crematory -- to provide you with the best service possible.
CANA Code of Cremation Practice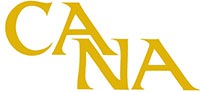 In the practice of cremation, we believe:
In dignity and respect in the care of the deceased, in compassion for the living who survive them, and in the memorialization of life;
That a Cremation Authority should be responsible for creating and maintaining an atmosphere of respect at all times;
That the greatest care should be taken in the appointment of crematory staff members, any of whom must not, by conduct or demeanor, bring the crematory or cremation into disrepute;
That cremation should be considered as preparation for memorialization;
That the dead of our society should be memorialized through a commemorative means suitable to the survivors.
Determine the type of services you would like. The type of service you request will be the determining factor in what the cost will be.
Cremation following visitation & service at church or funeral home
Cremation following visitation
Memorial service at church or funeral home – with the cremated remains or without
Direct cremation with no visitation and no service
Cremation Tribute Center
Although it is not common practice in our community today, the Evans' have begun the necessary preparation in providing the opportunity for families to be present and/or participate in the cremation ceremony. Yes, some family members wish to be present prior to and upon the completion of a cremation. Although this concept may be difficult for some people to grasp, others are privileged to be a part of the cremation.